Can you spot a housing bubble?
Does anyone think that housing prices in South Florida have spiraled out of control?  During the second half of 2020, there was a parabolic move in the average selling price of houses across Miami, Fort Lauderdale and Palm Beach markets.  here is a quick snapshot of the average sale price by county for the month of December:
Miami-Dade – $952,769, up 59% from $599,468 in December 2019
Broward / Fort Lauderdale area – $593,774, up 20% from $494,371 in December 2019
Palm Beach  – $855,831, up 73% from $494,689 in December 2019
Limited housing inventory
Will people continue to bid housing prices higher?  Low inventory is fueling the fire in prices.  At what point do people step back and see how crazy this is?  The number of houses on the market continues to drop.  Here is a look at the December 2020 inventory numbers, compared to one year ago:
Miami-Dade – 3,659 houses listed for sale, down 41% from 6,190 in December 2019
Broward / Fort Lauderdale area – 2,842 houses listed for sale, down 41% from 4,824 in December 2019
Palm Beach – 3,551 houses listed for sale, down 42% from 6,163 in December 2019
Transaction volume across South Florida housing market
By looking at the next chart, it looks like July 2020 was the highest volume month for single-family home sales across South Florida.  With such a low inventory, it will be difficult to reclaim those levels.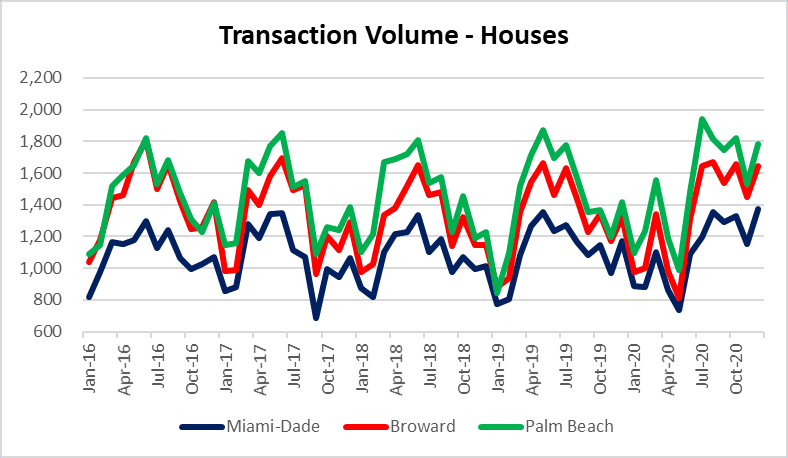 How about the South Florida condo market?
With limited supply of houses, buyers are finally starting to bid-up the price of condo properties after ignoring them earlier this year.  Here is a look at the average sale price of condos across South Florida during the month of December:
Miami-Dade – $527,548, up 30% from $406,832 in December 2019
Broward / Fort Lauderdale area – $265,197, up 15% from $230,227 in December 2019
Palm Beach  – $385,488, up 8% from $358,567 in December 2019
Condo properties in South Florida
You will be able to notice that the number of condos available for sale across South Florida hasn't declined nearly as much as the single-family home market.  There is always a large overhang of new supply hitting the market, so that may keep a lid on prices going forward after the current mania subsides.  The chart of condo supply in South Florida actually looks pretty stagnant.  Here are the December 2020 condo inventory numbers:
Miami-Dade had 12,898 condo units available for sale
Broward / Fort Lauderdale had 7,155 condo units for sale
Palm Beach had 5,140 condo units for sale
Condo sales volume in South Florida
Condo sales appear to be picking-up steam over the past few months.  Simply put, buyers don't have much of a choice right now in South Florida.  If you need a place to leave, you may have to broaden your search to include condos.
Why are mortgage rates still at crisis level lows?
It's difficult to understand why rates are so low, when prices are going bananas?  We haven't seen rates over 5% since before the last housing crash!  Demand for loans may be slowing, but the size of the average loan continues to climb.
This real estate market outlook covers real estate activity in Miami-Dade, Broward and Palm Beach County, Florida.  Here are just a few of the cities in each of these three markets:
Miami-Dade – Aventura, Coral Gables, Miami Beach, Hialeah, Sunny Isles Beach, North Miami, Homestead, Doral, Miami Lakes, Downtown Miami, Brickell and Key Biscayne.
Broward – Fort Lauderdale, Pompano Beach, Deerfield Beach, Hollywood, Hallandale, Weston, Parkland, Wilton Manors, Oakland Park, Plantation, Cooper City, Davie, Coral Springs, Sea Ranch Lakes, Lauderdale by the Sea and Lighthouse Point.
Palm Beach – Delray Beach, Highland Beach, Jupiter, Palm Beach Island, Boynton Beach, Boca Raton, Highland Beach, Palm Beach Gardens, West Palm Beach, Wellington and Lake Worth.