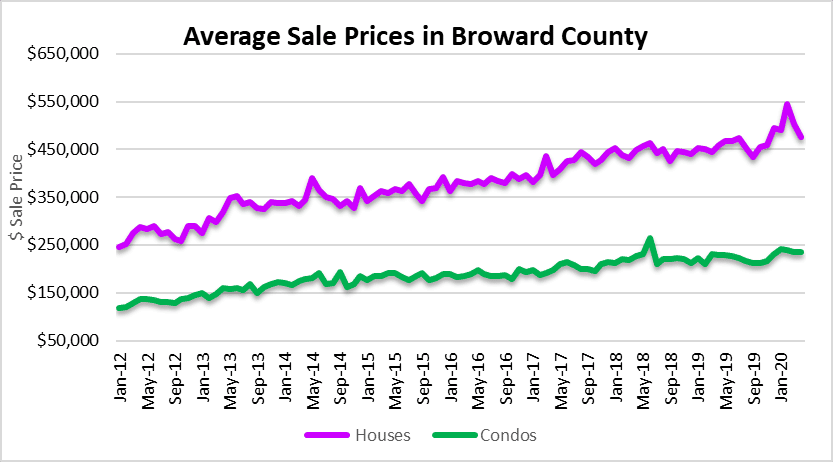 Now in the month of June, we are moving right along to see how the South Florida residential real estate market is holding up during the COVID-19 pandemic.  Today's charts highlight Broward County, which includes (but is not limited to) Fort Lauderdale, Weston, Pompano Beach, Deerfield Beach, Parkland, Coral Springs, Plantation and Hollywood.  The average sale price of a house in Broward during the month of April dropped to $475,849.  That's still relatively high if you want to consider the housing affordability problems nationwide.  In April 2019 the average sale price was $459,233, so house prices are still up 4% year over year.  As far as condo prices, the average sale price was $235,911 in April, up 3% from $229,217 in April 2019.
Moving right along –  Deal Volume in the Fort Lauderdale Area
As expected, the pace of real estate closings slowed in April due to the pandemic.  This may not last long as we show a chart of mortgage rates later in this post.  There were a total of 1,965 closings in April.  This number is down 31% from 2,835 closings in March and down 17% from 3,141 closings in April 2019.  What's interesting about this chart is that there were only 1,916 closings during January 2019, so this April was slightly above that number.  As showings increase you should see closings rebound though the summer months.
Moving right along – monthly average deal volume
Here is a quick look at how 2020 stacks up to others years of this housing recovery cycle.  The first quarter is typically sluggish, so the monthly average of 2,248 transactions so far in 2020 is bound to increase as we progress through the remainder of the year.
Residential Inventory in Fort Lauderdale area
In April there was a total of 13,168 houses and condos on the market across Broward.  That's only a small uptick from 13,114 in March.  The stay at home orders were taken seriously and it seems like most sellers weren't too motivated to have prospective buyers parading through their homes during the lock down.  In May there were 5,031 houses and 8,137 condos listed for sale.  Anytime supply has increased during this last cycle it has been met with eager buyers.  For example, in February 2019 there were 15,164 houses and condos on the market and that inventory has dwindled by two thousand units in a year.  Once again, you can attribute most of this to record low mortgage rates.
A Mortgage Rate chart says a thousand words
Mortgage rates are low and will stay there for awhile, so don't panic.  According to the Freddie Mac weekly survey, the 30-year fixed-rate mortgage was 3.15% plus .80 in Fees/Points and the 15-year fixed-rate mortgage stood at 2.62% plus .70 in Fees/Points.