Three markets and their recent activity
We often monitor South Florida markets as a whole, but today we will look at the three individual markets and their sale prices and their transaction volume.
Three markets and their House Prices
This first chart is interesting.  In the first few months of 2020, it looks like prices in Broward and Palm Beach were on the rise, while prices in Miami declined.  Here is our last post and a snapshot of the average sale prices for February in the single-family home segment:
Miami – Dade – $515,206, down from $531,806 in January
Broward – $544,134, up from $491,479 in January
Palm Beach – $608,819, basically unchanged from $609,770 in January
Condo Prices
It looks like condo prices were either down slightly or unchanged for the month across South Florida.  Here is a look at the average sale prices in the area:
Miami – Dade – $380,764, down from $406,108 in January
Broward – $240,071, down from $242,200 in January
Palm Beach – $332,494, basically unchanged from $332,928 in January
Three markets and the transaction volume – Houses
Sales activity didn't seem to change much last month in Miami and Broward, but Palm Beach ticked-up a bit.  Here is a breakdown of February sales compared to January:
Miami – Dade – 884 closed sales, basically unchanged from 887 in January
Broward – 1,004 closed sales, basically unchanged from 976 in January
Palm Beach – 1,233 up slightly from 1,094 in January
Transaction volume – Condos
There was a slight uptick in all three markets last month.  Here are the numbers:
Miami – Dade – 978 closed sales, up from  in January
Broward – 1,155 closed sales, up from 1,055 in January
Palm Beach – 1,015 up from 895 in January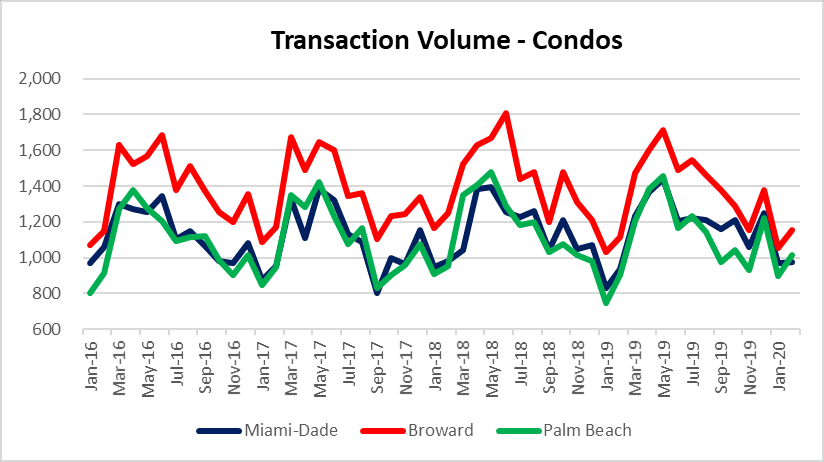 Obviously these charts are all looking in the rear-view mirror at this point.  As with the rest of the country/world, nobody really knows what the impact will look like.  there are plenty of predictions about potential ripple effects, but nobody can be certain at this point.
Mortgage Rates
Here is a chart of the weekly mortgage rates from Freddie Mac and their weekly survey   This is a great resource for updates on rates every week and is released on Thursdays.   As of 3/19 the average rate on a 30-year fixed was 3.50% plus .70% in fees / points, placing it around 4.20%.  The average 15-year mortgage rate was 2.92% plus .60% in fees/points for a total rate of about 3.52% this week.  We reduced the time frame of the mortgage chart to highlight the recent moves better.
This real estate market outlook covers real estate activity in Miami-Dade, Broward and Palm Beach County, Florida.  Here are just a few of the cities in each of these three markets:
Miami-Dade – Aventura, Coral Gables, Miami Beach, Hialeah, Sunny Isles Beach, North Miami, Homestead, Doral, Miami Lakes, Downtown Miami, Brickell and Key Biscayne.
Broward – Fort Lauderdale, Pompano Beach, Deerfield Beach, Hollywood, Hallandale, Weston, Parkland, Wilton Manors, Oakland Park, Plantation, Cooper City, Davie, Coral Springs, Sea Ranch Lakes, Lauderdale by the Sea and Lighthouse Point.
Palm Beach – Delray Beach, Highland Beach, Jupiter, Palm Beach Island, Boynton Beach, Boca Raton, Highland Beach, Palm Beach Gardens, West Palm Beach, Wellington and Lake Worth.